Connect with your social network account
dat Fries Dammen de ultieme oplossing van het remiseprobleem vormt.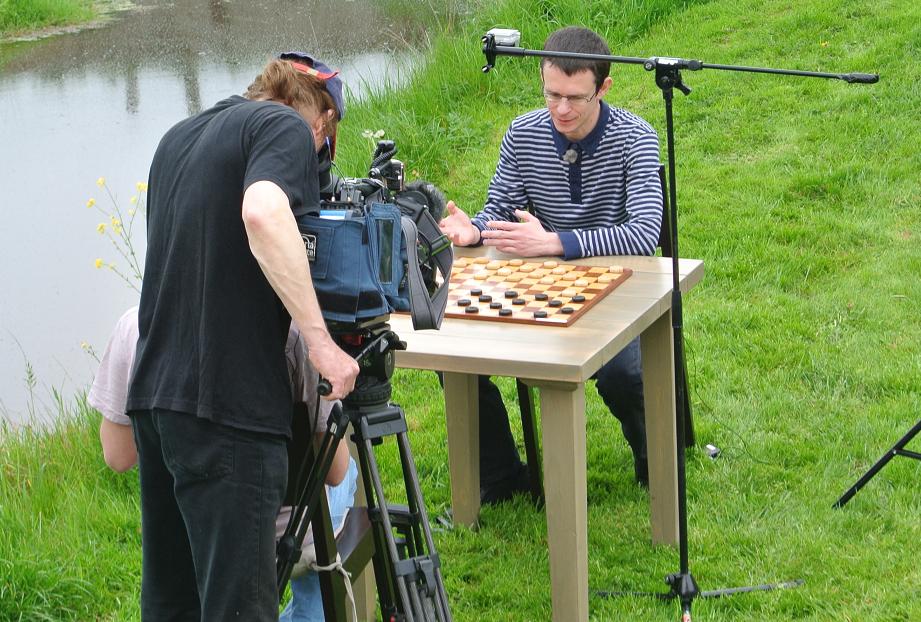 ---
Op dit moment de finale Walinga - Georgiev.
Perfect in beeld gebracht op:
http://frisiandraughts.com/live.php
Piet Bouma, op 6 augustus, in
http://www.friesdammen.nl/frl/actueel/nieuws/379
verwoordt het zo:
Opvallend is dat Georgiev vaak vanuit een rustige positionele stand in het eindspel (ongetwijfeld met brute force rekenkracht) toeslaat.
Waar in andere partijen het combinatieve aspect de overhand heeft, schijnt hij een modus gevonden te hebben om de Friese tegenstanders, die de plaatsen 2 t/m 10 bezetten (samen met internationaal dammer Hans Jansen), te ontregelen. Het toernooi in Leeuwarden kent enorm veel beslissingen (slechts Georgiev is nog ongeslagen) omdat spelers zich niet achter snelle remises kunnen verschuilen en het Friese Spel uiteraard een hoog winstpercentage tot in het eindspel kent. Initiatieven (o.m. vanuit Delft) om in het internationale spel met spelregelwijzigingen het remisepercentage naar beneden te brengen kunnen in de prullenbak.
Nu Georgiev (uiteraard strijdlustig als altijd) dit spel omarmd heeft (en ongetwijfeld de laatste jaren flink bestudeerd), staat niks in de weg om de "Queen of all Mind Sports" een boost te geven. Geen strategisch afraffelen van partijen tussen grootmeesters in veertig zetten in het internationale spel, omdat men het toch niet ziet zitten of niet durft (hetgeen verbazingwekkend genoeg ook nog eens gekopieerd wordt door jonge spelers), maar werkelijk strijd op het dambord!
---