chessdrummer wrote:
Perhaps that is the understanding they have, but it would not be because chess is forbidden (haram). Prophet Muhammad (pbuh) never spoke on chess per se, but it is referred to in several hadiths. Of course games with gambling were forbidden and there was an older form of chess that was played with dice. In the recent case of the Iraqi election, it is said Sistani will ban chess, but I'm not certain of the Shia school of thought, but there are no text which prohibit chess specifically.
Some Islamic scholars claim it to be haram, others say that it is only "mukarrah" (not encouraged) while others says that it is accepted (halal) as long as no gambling is involved or such that it does not interfere with prayer.
Actually the form of chess we play today was the successor to the form invented by Indian Muslims and traveled through Persia across the Sahara into Morocco after which the Moors took it into Spain in 711 AD. Along with chess, a form of draughts was played by the Moors. Chess was still called "shatranj" at the time ("chathurangam" in India). When the Moorish empire in Spain fell in 1492, the chess rules were changed and the pieces took on Catholic religious symbology... this fact alone may disturb Muslim clerics today.
Egypt, an Islamic nation, is the strongest African chess nation. Other nations that field Chess Olympiad teams are Iran, Iraq, Somalia, Bangladesh, Malaysia, Indonesia, Libya, Algeria, Morocco and others. Saudi Arabia does not, but I can attest that I get several visitors to my chess site from Saudi Arabia. Abu Dubai frequently hold world class tournaments as well as Bahrain. I believe chess may not have taken in West Africa because of the fall of the Moorish empire. Muslim African countries (Senegal and Mali) may have lost the connection to chess with the fall of the Moors. The Senegalese are ancestors to those Moors (Almoravids) who were driven from Spain.
On a simpler note, chess was in competition with draughts and the hugely popular "warri." As you stated, may have been easier to produce the pieces for these games.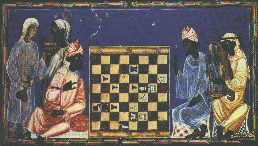 Moors in Castile, 1238 AD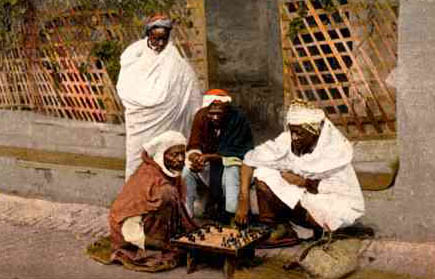 Moors playing a form of draughts in Algeria 150 years ago.
Thank you for this article Daaim, you are an excellent writer! I wish we had websites about Draughts like your excellent Chess-, Draughts- and Checkers-site. Probably I am not well-enough-informed concerning the Islam, though it stays strange that there are no Grand Maîtres in Chess in West Africa.
You are a member from the Nation of Islam?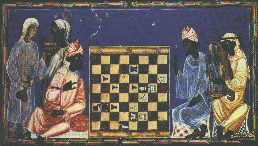 Moors in Castile, 1238 AD
Before they burnt the chess board?
Excuse me Daayim, I don't wanna be rude,
but when I see the aggression coming from Islam,
I don't see how to avoid all kind of real big conflicts.
And when I hear stories about the prophet Muhammad
murdering 700 jews and left one be alive, a beautiful
young girl, a virgin, and Muhammad (after have given
order to murder all the girls 700 family-members)
wants her to be his bride and have her for the night to
make love with. When I hear these stories I don't think
this Muhammad is a holy man, I more think he is a man
from Babylon, a prophet from Evil, the forces behind
Enki and Enlil, Marduk and Nibiru.
And I think of Malcolm X and what
he said shortly before he was murdered. He said he wanted
to leave the Nation of Islam, because he had found out that
The Nation of Islam was sponsored by the same organization
that sponsored the Ku Klux Klan.
Strange stories, maybe not true, but I think, true....
Am I wrong?