I have a new idea for an essay looking at Black pioneers in both draughts and chess. I believe that seeing these legendary figures are inspiring regardless of which board sport one plays.
However, we have to break up the West African monopoly of draughts! Maybe I will go to Senegal as a chess missionary.
Certainly, I'm joking... both are wonderful sports.
In our sport, both the Chinese and Indians are making tremendous progress and are both becoming top chess nations. India has the #2 player in the world in
GM Viswanathan Anand
and the Chinese women have won four gold team medals in a row and held the women's world title for a decade until recently (when
GM Zhu Chen
didn't play for maternity reasons). TheChinese men are near the top ten in the world.
Unfortunately, in Africa (and Black players in general), there is not a strong support for these activities. Federations have done a poor job in marketing chess and it is primarily thought as a game for the European or American male elite intellectuals. We have taken more to checkers-64 in the U.S., but there are no organized activities. I'm not sure where
Carl Buster Smith
learned draughts in Chicago.
Here's a story from a friend about checkers in Atlanta: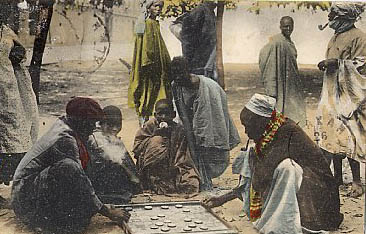 Sulaiman Smith tells a story of a Senegalese named Mamadou who approached a group of checker players in College Park, Georgia (USA) and asked to play. After the men were completely outclassed by the Senegalese draughts maven, they couldn't believe he was so much better than them! Perhaps Mamadou got his start on the sandy streets of Dakar, Senegal watching older men play the venerable board sport as seen above.