Connect with your social network account
Henk de Witt wrote:Twee weken geleden stond er een mooie spotprent in de Volkskrant. Obama en Poetin zitten te dammen. Terwijl Obama nog een blik werpt op de spelregels graait Poetin met beide handen diens schijven van het bord. Valsspeler Poetin heeft één ding wel goed begrepen. Dammen draait om het veroveren van stukken van de tegenstander.
Obama houdt zich totaal niet aan het internationale recht.
Zie al die illegale gewelddadige invallen in soevereine landen.
Rusland houdt zich zoveel mogelijk aan de regels.
Akties in Syrië volgden pas na een verzoek door dat land en na goedkeuring door het Russisch parlement.
---
Found on the WWW:

After the recent UN General Assembly a reporter in Moscow asked Putin what it's like trying to negotiate with Obama. He said it's like playing chess with a pigeon... "First he knocked all the chess pieces over, then shit in the middle of the board... and then strutted around like he won."
---
Nog meer over schaken: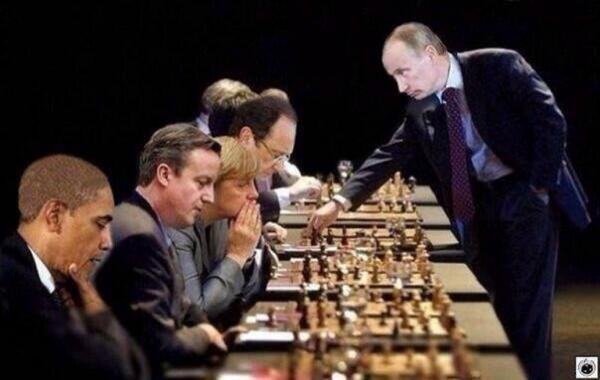 Nog een sport, surfen:
http://rbth.com/opinion/2015/10/01/for_ ... 49711.html
---
Kosmos wrote:eerder aan Putin, de man die ziekenhuizen in Syrië bombardeert ... De naam killer zal ze vast aanspreken.
praat westerse liegende media na alsof het de waarheid is en niets dan de waarheid
---
De New York Times (NYT) is een kwaliteitskrant.
Een kruising tussen NRC en Volkskrant zeg maar.
Gelezen door intellectuelen en progressieven.
De NYT schrijft 18 november dat Assad's leger en de Russen misdaden plegen.
Systematische schending van mensenrechten in Aleppo.
Vooral ziekenhuizen worden getroffen.
Mensen lezen koppen.
Het blijft hangen.
Ze vertellen het door.
UNITED NATIONS — A New York-based human rights organization is accusing the Syrian government of flouting international law by killing health workers, bombing hospitals and blocking lifesaving aid from entering a strategic city in northern Syria that was held by the opposition groups.
(…....)
The report says that 95 percent of Aleppo's doctors have fled or been killed. The group also says that Russian airstrikes have hit 10 medical facilities since the air campaign began in September.
Maar wat staat er nu concreet in dat artikel en wat zijn de bronnen?
Zie deze analyse:
http://www.moonofalabama.org/2015/11/th ... -scam.html
---
---
---